A Guide to Furniture Wood Types
Almost every piece of our furniture can be built in any of our wood species. Every type has different characteristics and takes stain differently. We price everything by wood, and everything is available in a variety of stains.
Although some of the wood species are harder than others, we only offer American hardwoods — nothing soft. Everything below is suitable for any type of furniture we offer!
Oak

Oak is a beloved wood and used for all kinds of purposes —chances are you have some Oak in your home already! Cut from the Red Oak tree in the Northeast United States, Oak's defining visual feature is the pronounced grain (as seen in the picture above.) It takes stain very consistently, so the color is the same throughout the piece of furniture. You won't find any knots on our Oak furniture. We don't just offer the traditional Honey colored Oak — Oak can be stained light, dark or anything in between. There's a lot of choices no matter what style you're looking for.
Brown Maple

One of our best-selling woods, Brown Maple has a tighter, finer grain which gives it a smoother and glassier look absent of any knots. Brown Maple has a lot of variation in the way it stains — you will often see darker and lighter spots. Take a look at the piece of unfinished Brown Maple below and look at the dark and light spots. Once stained, this gives a lot of depth to the piece of furniture which is a popular look. If you're looking for cooler tones such as grays, Brown Maple is one of the best choices since it's natural color doesn't impart any red into the stain. Brown Maple shows off the true beauty of natural wood and is a great way to get an updated look in your furniture.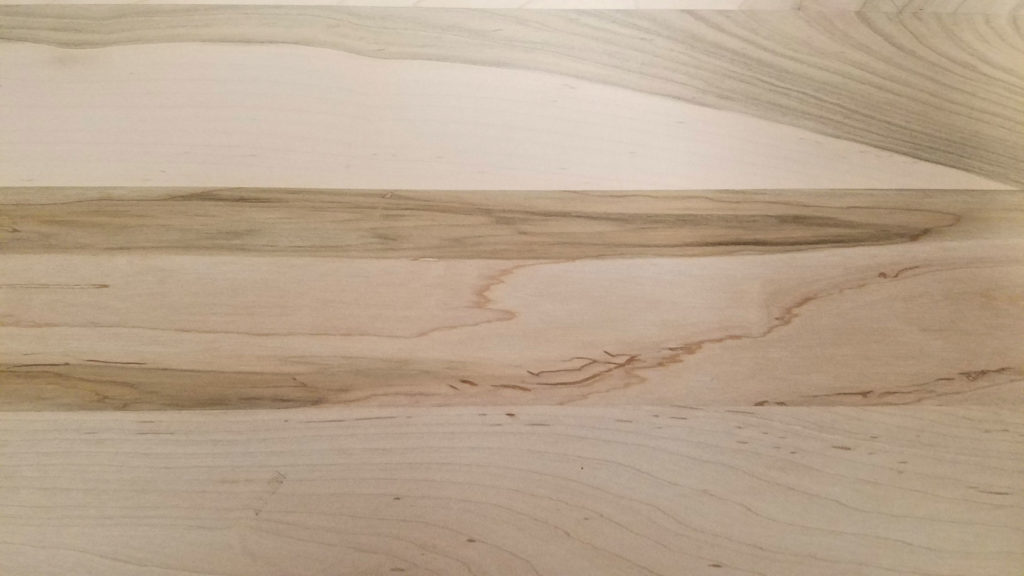 Cherry/Rustic Cherry
Our Cherry wood comes from the Black Cherry tree, grown in Eastern North America. Cherry has a tighter grain and can appear similar to Brown Maple, but the grain has a beautiful, unusual wave to it. The color is more consistent throughout (depending on the stain) but you will still see natural variation in the lights and darks. Cherry darkens a bit as it ages (over the course of a couple months) which can be sped up when exposed to sunlight.
We offer both Clear Cherry and Rustic Cherry. These options both come from the same tree, however different boards are selected for each option. Rustic Cherry will use some boards with knots while Clear Cherry will only use boards without any knots. Knots can be filled or left open, depending on taste. Rustic Cherry is a popular choice for distressed tables, or to just give a piece a little more character.
Quarter Sawn White Oak

White Oak is grown in the Eastern United States, and Quarter Sawn White Oak is named from the way it is cut. The logs are cut into quarters, which make the boards very dense and show off a beautiful grain full of flecks and rays. The density makes Quarter Sawn Oak very strong and heavy. Quarter Sawn White Oak is available in rustic which leaves in knots, and non-rustic which does not include knots. Popular in Craftsman and Mission styles, Quarter Sawn Oak is a timeless look that never goes out of style.
Elm

Elm has a very distinct, "feathered" grain. It's bold and gorgeous – our Elm pieces never stay in the store for long! Since the grain is very "busy", a popular look is to use Elm on only part of the piece, and two-tone it with a dark Brown Maple as on our Canterbury Leg Table.
Hard Maple

Hard Maple comes from the "Sugar Maple" tree from Northeast America. The grain is fine and generally straight instead of wavy. It's harder and more dense than a lot of our other woods, but its tight grain means it doesn't absorb stain very well. Dark stains will often look dull and blotchy. If you're looking to go with Hard Maple, we recommend lighter stains. Related article: Why Don't You Stain Hard Maple Dark?
Hickory/Rustic Hickory

Hickory is one of the hardest and most dense woods native to the United States. Hickory is often used when extra strength is needed, for instance it's commonly used for ax handles. It has a strong grain with a lot of color variation, which gives it a distinctly rustic look.
Walnut

Walnut, cut from Black Walnut trees in the Eastern United States, is a very beautiful hardwood. It's a high premium wood that's often sought out by woodworkers. It's often left natural or with a slightly darker stain to preserve its natural character. We rarely sell a piece made completely of Walnut —it's commonly paired with other woods as inlays or as a table top.

At The Amish Furniture Collection, customers have the flexibility to choose from a wide range of wood species to customize their furniture. Each wood type has unique characteristics and will take stain differently, allowing you to select a wood that will complement your decor perfectly. While some woods are harder than others, all of our wood species are American hardwoods, ensuring that each piece of furniture is built to last. We price our furniture by wood, and everything is available in a variety of stains. Whether you're in the market for a new dining room table, a bedroom set or another solid wood piece, our selection of wood species and stain options make it easy to create the perfect piece of furniture for your home.