Troubleshooting Guide
When each wood board is cut, it creates what is called "end grain", which is the literal end of each board. This area can have a different grain direction, texture, and absorption rate for stain compared to the rest of the wood. This is completely normal and occurs on every wood board, as well as on all real wood furniture. You may notice this more on the edges and tops of our furniture, especially on items such as tables and bedroom pieces. This is not a flaw and is an inevitable feature of making furniture from real wood products.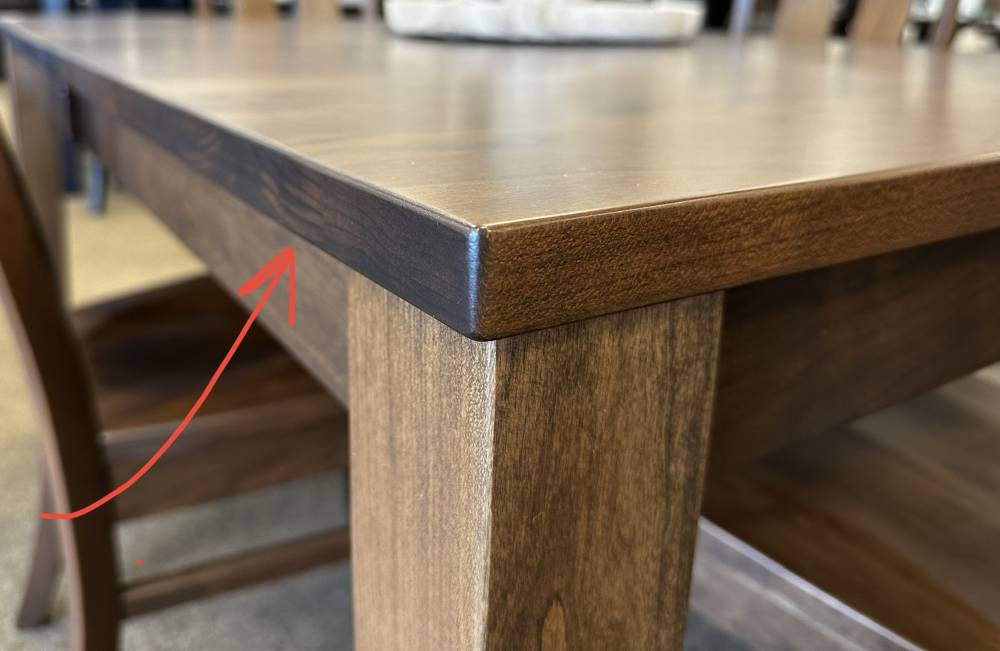 If you've just received your Amish furniture and have noticed any damaged hardware, we're here to help you out. Simply send us a photo of the damaged hardware using our claims form and we will provide you with a replacement. However, if you've had the furniture for a while and it gets damaged, don't worry, you can still find replacement hardware easily. Firstly, check your receipt for the hardware number and type it into Google to find a replacement. If you can't find the hardware number on your receipt, just send us a photo of the hardware and your invoice number through our claims form and we'll help you find the item number. Once you have the item number, you can easily find it either at a local hardware store or online. We're committed to making sure your Amish furniture looks great and functions perfectly, and we're here to support you every step of the way.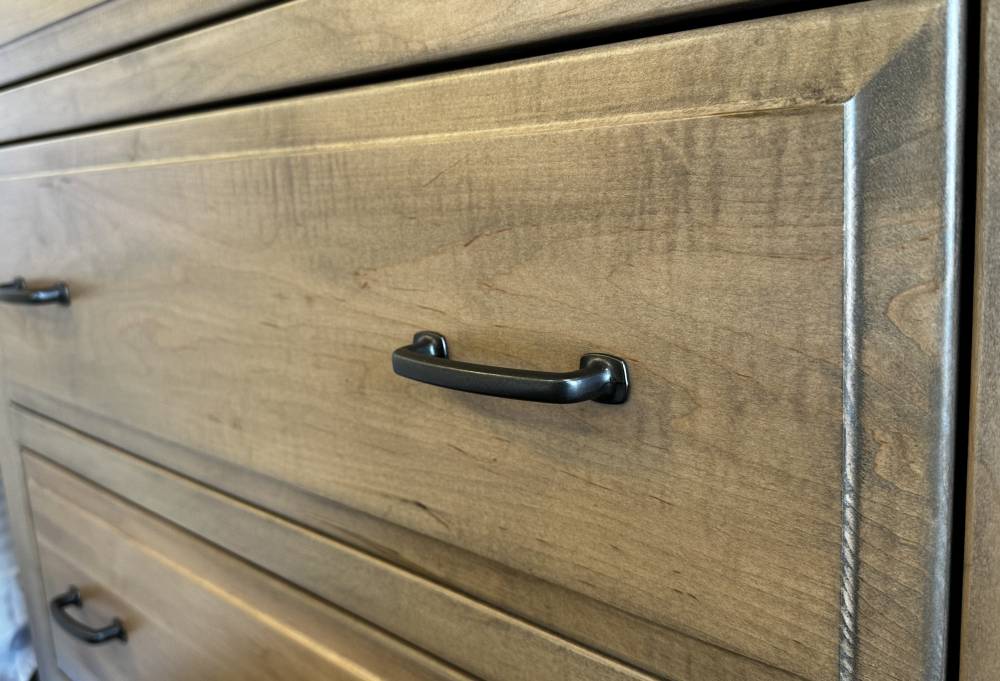 While our Amish builders use certified stains that run consistently in batches, like any material, it can still vary from piece to piece due to several factors, such as the type of wood it was stained on, the time frame between stain jobs, and the person staining it – meaning the person staining could have a heavier or lighter hand during the process. This variation is not unique to Amish furniture and can be found in other home industries, like flooring, kitchen cabinetry, and even paint colors.
While we believe that pieces can be stained at different times and still match fairly well with older pieces, age and sunlight can affect the color, especially with certain wood types. It's possible for even new items of same color and wood to appear different on a few different pieces, but overall, the stain has a cohesive look that is considered the same. It's important to keep in mind that our products are made of real wood, which has its unique characteristics and charm. Unlike veneered furniture, which simply prints a photo of wood onto the top, our furniture has the natural variation that adds to its beauty.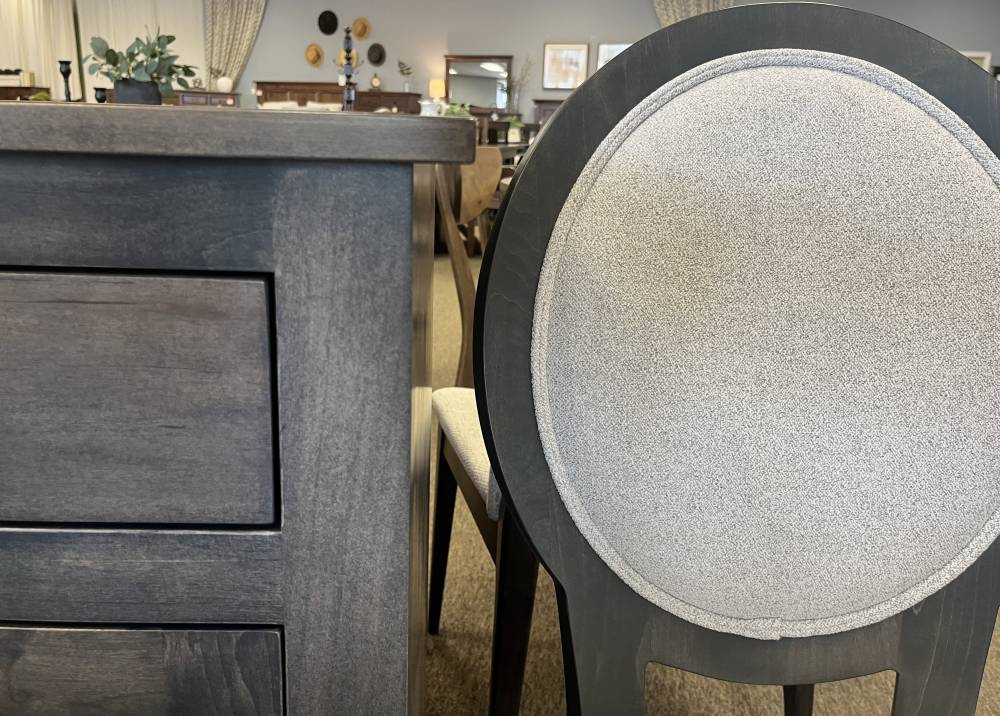 At times, a customer may be unsure if they received the correct color of their furniture. While this is rare, we are always happy to double-check by finding the code written on the bottom or back of the piece and matching it with the code of the stain color chosen. Even though the stain color codes may not always be listed on your receipt, you can find them on our website and check for yourself if you'd like. Please note that the color samples displayed in our showroom may look different in the lighting of your home. Even our stain samples, which are 5×7 pieces of the stain on wood, may not represent the color of the entire product as wood has lighter and darker parts. As stain color can vary from piece to piece, depending on the person who stained it and whether they used a light or heavy touch, variations in color are normal and even desirable as it adds depth and dimension to your home through real wood furniture.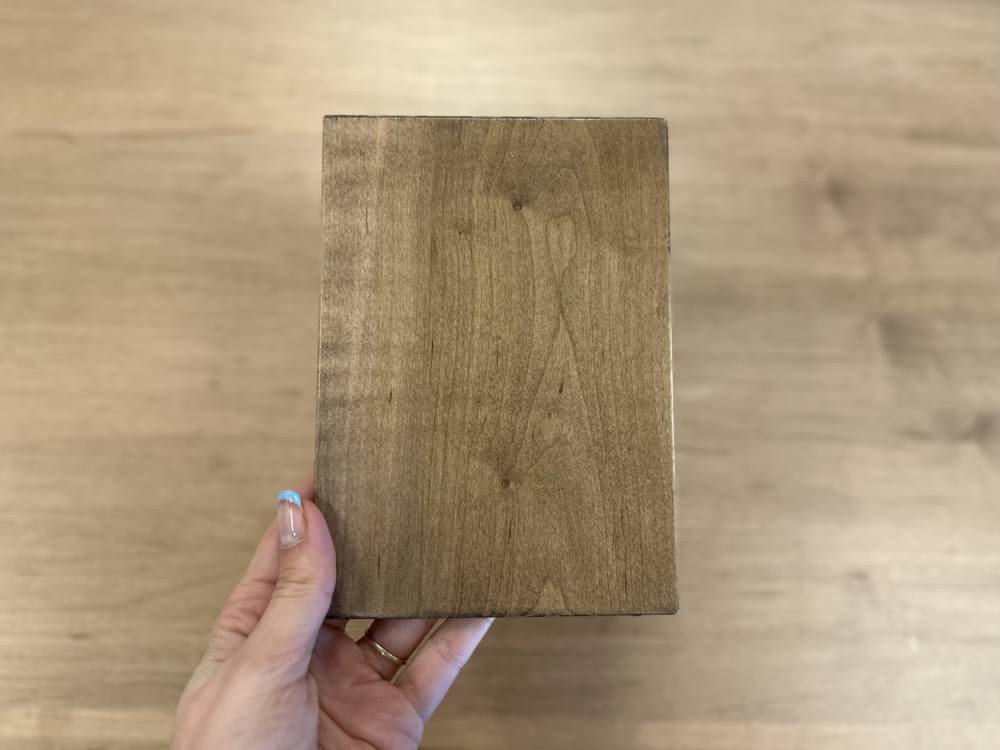 If you have a piece of solid wood furniture, it's important to know that scratches are inevitable. Even with Amish-made furniture, scratches are possible, and eventually, wear and tear will occur. But don't fret! There are steps you can take to repair scratches and keep your furniture looking great. When something hard hits a surface with enough force, it can scratch the surface. Light surface scratches are common with day-to-day use. Luckily, unlike non-wood furniture, real wood can always be sanded down and refinished to its original state. However, most scratches are only surface level and can be easily repaired.

The first step is to use a stain stick. This is a great way to minimize the look of scratches and help them blend into the surrounding wood. You'd be surprised how well a stain stick can be used to camouflage scratches. There are a variety of touch-up markers available, such as the Guardsman Repair Touch-Up Markers®, which come in a variety of shades to match many different furniture tones. Simply choose the color that matches your furniture piece and follow the instructions to color in the scratch.

For very light surface scratches that are surface level, furniture-grade lemon oil is a fantastic way to rejuvenate and moisturize the wood. This can help minimize the look of scratches and keep your furniture looking beautiful. It won't color in scratches, but it helps them appear less pronounced and also has other added benefits like UV protection.

Filler Sticks: If a scratch is fairly deep, just coloring it in may not conceal the blemish. In this case, consider trying a filler stick on the scratch. Filler sticks are made of a special type of wood putty that doesn't shrink or discolor. Like touch up markers, they are usually offered in a variety of colors, meant to match as many furniture types as possible. They can even be combined to match a piece more accurately. To use filler sticks, simply purchase a set, such as the Guardsman Wood Repair Filler Sticks®, and choose the color that matches your furniture, then follow the provided instructions to fill in the scratch until it is no longer visible.

The Sanding Method: If a scratch is too deep to color or fill in, it may need to be sanded down. This method is best left to professionals, as it can quickly cause more damage to your furniture if not done correctly. While sanding may seem easy, it's a delicate art and should be handled by those who know what they are doing. Essentially, what will occur is that, by hand or by machine, the area in question will slowly be ground down with extra-fine-grade steel wool. Then, an oil-based polish that matches the furniture color will be used in damaged area. Once it is dry and if it is necessary, the sander will grind down once more to soften the area and make it look natural. We recommend finding a local refinisher, or using Guardsman's in home repair service.

Remember, there is no such thing as scratch-proof furniture, but with these simple steps, you can keep your solid wood furniture looking its best for years to come.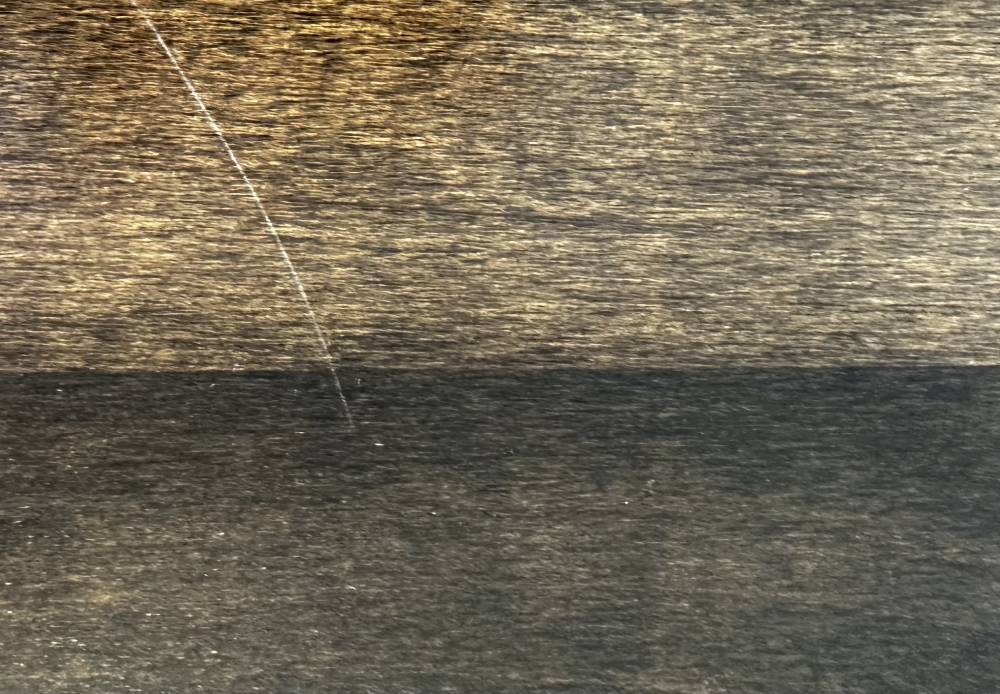 We take pride in crafting sturdy chairs, and the Amish take extra care to ensure that each chair and barstool is checked for stability on a flat surface area before leaving production. However, if you notice that your chair is wobbly, there are a few things you can do to address the issue.
First, we recommend placing your chair on a completely flat surface, such as a counter, as most floors are uneven. If the chair still wobbles, the felt floor protectors may be the culprit. Occasionally, these protectors can be tapped in at an angle, causing the chair legs not to sit flush. Removing and re-tapping the floor protector felt pads is an easy fix that can quickly resolve the problem.
If your chair remains wobbly despite trying the above remedies and was recently delivered or picked up, please contact us. We are committed to providing quality products and exceptional customer service, and we will do everything we can to help resolve the issue.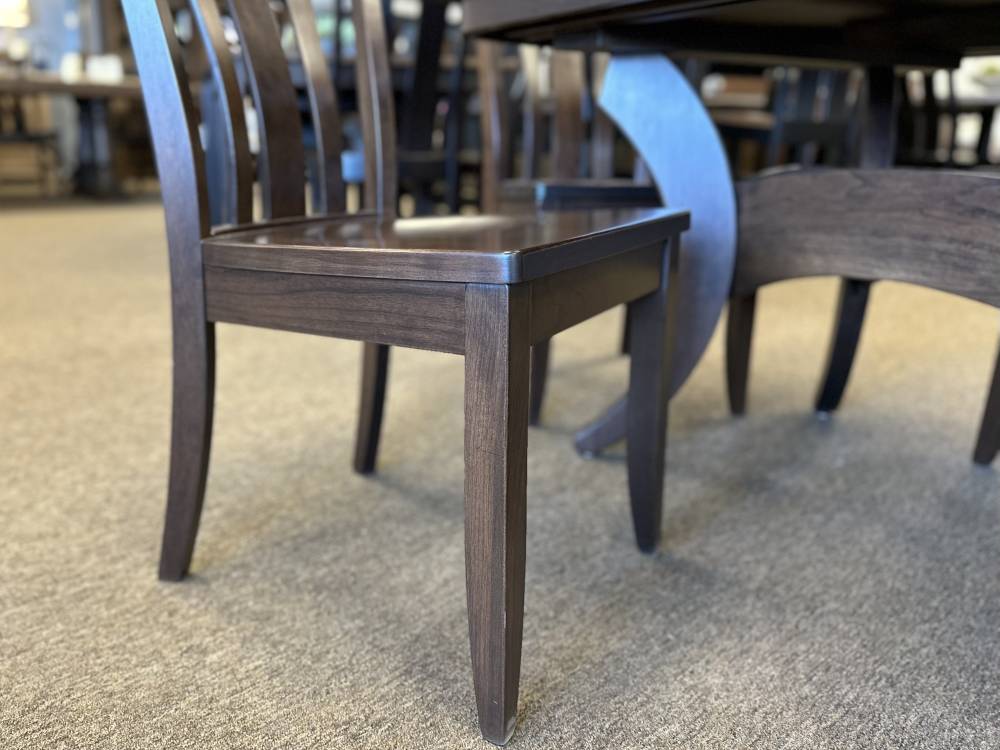 At our Amish Furniture store, we take pride in the quality of our products. Although it is rare, sometimes our customers may encounter a table that squeaks. If you experience this issue, there are two possible causes: the flooring and table levelers, or the top of the table needs to be tightened. All of our tables come equipped with levelers on the bottom of the legs or base. These levelers need to be adjusted to compensate for uneven floors. If adjusting the levelers does not fix the problem, check that the top and base are tightly secured. If it is loose, it can easily be tightened with a half-inch socket.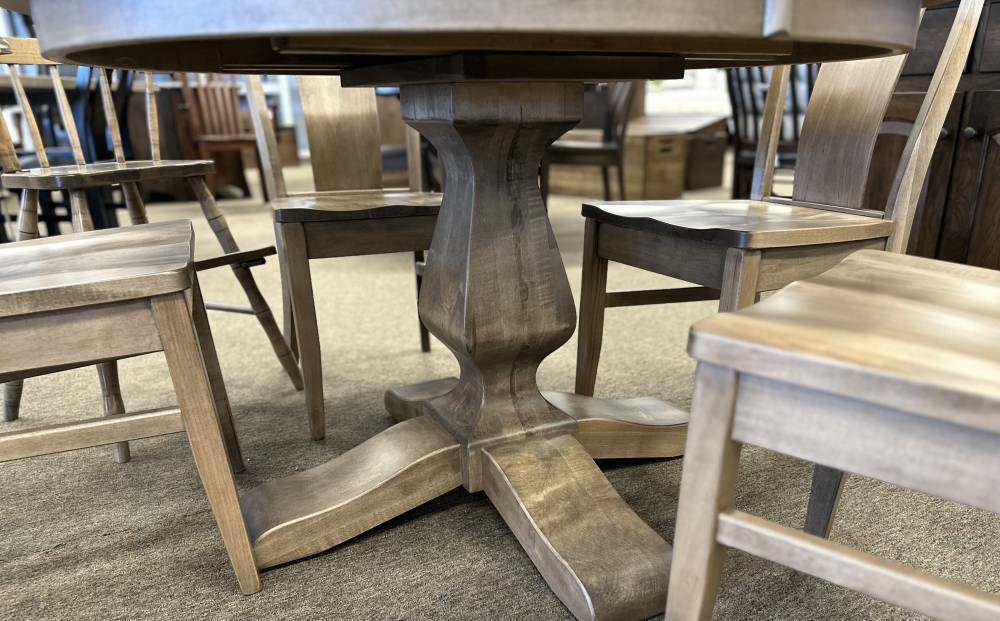 Our Amish builders specialize in crafting solid wood tables that are built to last. However, it's important to note that natural wood is subject to some degree of expansion and contraction as it responds to changes in humidity and temperature.
As humidity rises, the table will swell, and the gap will be visible. In the dry season, the tabletop will shrink, and you might experience a gap where the two halves meet. This is not a defect, but rather a natural movement in the wood that occurs as moisture content fluctuates in response to relative humidity.
Most hardwoods are open grained, which means that even after protective finishes have been applied, solid wood furniture will still expand and contract. However, you can minimize (but not completely eliminate) these effects by keeping indoor humidity in the 40-45% range.
To ensure the longevity of your solid wood table, it's important to keep it away from direct sources of heating and cooling and avoid storing it in attics or basements. By taking these precautions, you can enjoy the beauty and durability of your solid wood table for years to come.
Overall, table gaping is a completely normal occurrence on our tables and will ebb and flow throughout the year with humidity changes. These tables are not meant to have a tight seam 100% of the time because wood moves and needs some range to do so. If you are dealing with table gaping, please use a the proper mode (humidifier for dry season or dehumidifier for wet season) and give it a few weeks to see the difference in your table. Again, this is not something that needs to be a perfect tight seam, but it can be minimized based off humidity levels.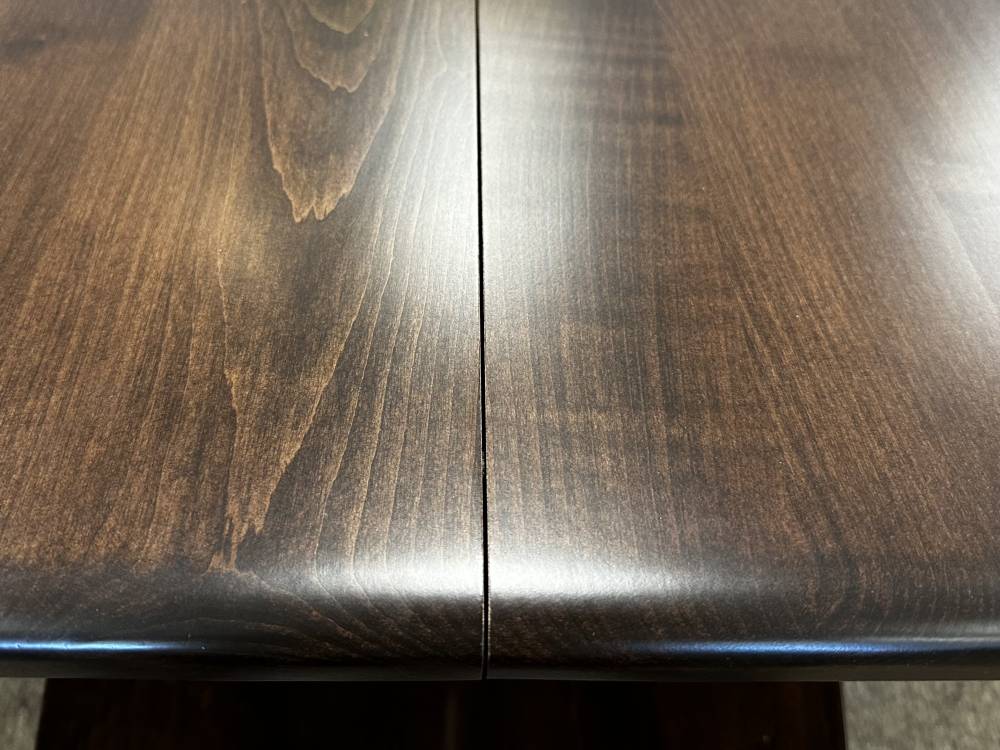 If you have a bed with panels, you may notice that during certain times of the year, the panels shift and expose the bare wood behind them. This is a normal occurrence caused by changes in humidity and can be easily remedied by using a stain stick on the exposed areas or changing the humidity in the room. It's important to note that our beds, as well as other paneled furniture like buffets, are fully built before they are sent to a different shop to be stained. This is why it is not stained underneath these panels since the stain shop is not un-assembling and re-assembling the piece. You can rest assured that over time, the panels will shift back into place once the humidity changes.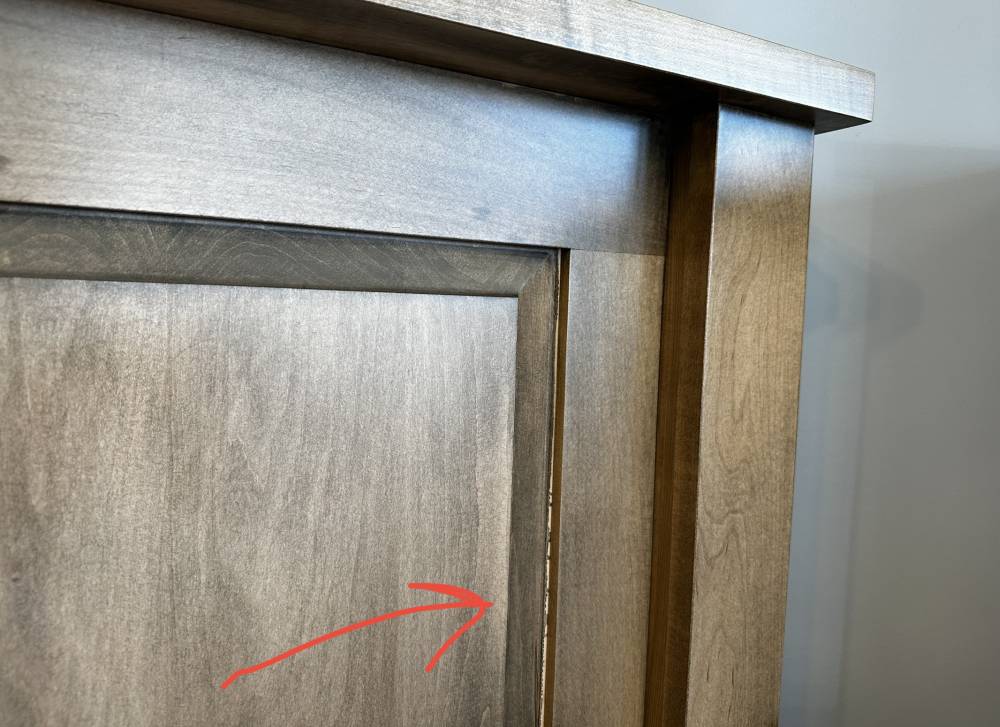 We take pride in the craftsmanship of our Amish-built tables, but unfortunately, we cannot guarantee that every table will have the capacity to store leaves. Our skilled craftsmen use their expertise to determine if a table can accommodate leaf storage during the building process. While they strive to build tables that can store leaves, it may not be possible for every single table. Factors such as custom sizes, narrow widths, and round tables may limit the ability to store leaves. However, we are confident that our tables are made with the utmost attention to detail and will provide a beautiful and functional piece for your home.
Amish furniture is renowned for its high quality and the fact that it is all handcrafted from wood. However, it is important to understand that the non-visible parts of the furniture, such as the underside of tables, chairs, and cabinets, etc., may not have the same attention to detail and finish as the visible parts. This is because when building furniture, these parts are typically set onto a surface for staining and finishing. It is normal for the underside of furniture to have a rougher finish, and it is not considered a defect. If these parts were finished as nicely as the visible parts, it would increase the cost and time required to build the furniture. So, rest assured that your Amish furniture is still of the highest quality, even if the underside isn't finished as finely as the visible parts.
We do not do repairs or refinishing on non-visible parts of furniture.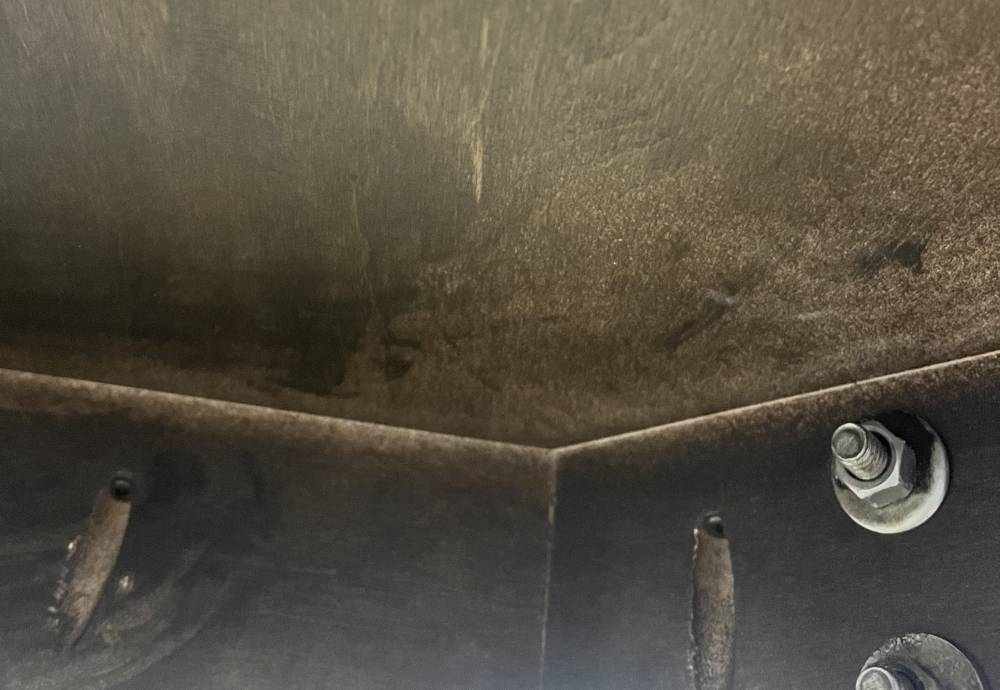 To ensure transparency and avoid any confusion, we want to let you know that shelves inside our cabinets, bookcases, and other pieces are not always given the same attention as the visible outside of the piece. While our Amish craftsmen still sand and stain them in the same way, you may notice some missing stain on edges or that they are a little rougher to the touch. This has always been the case with Amish furniture, and it remains true on the pieces we sell and the ones displayed on our showroom floor. We rarely receive complaints or concerns regarding this issue, but we want to address it in case any customer is wondering whether it is normal or not.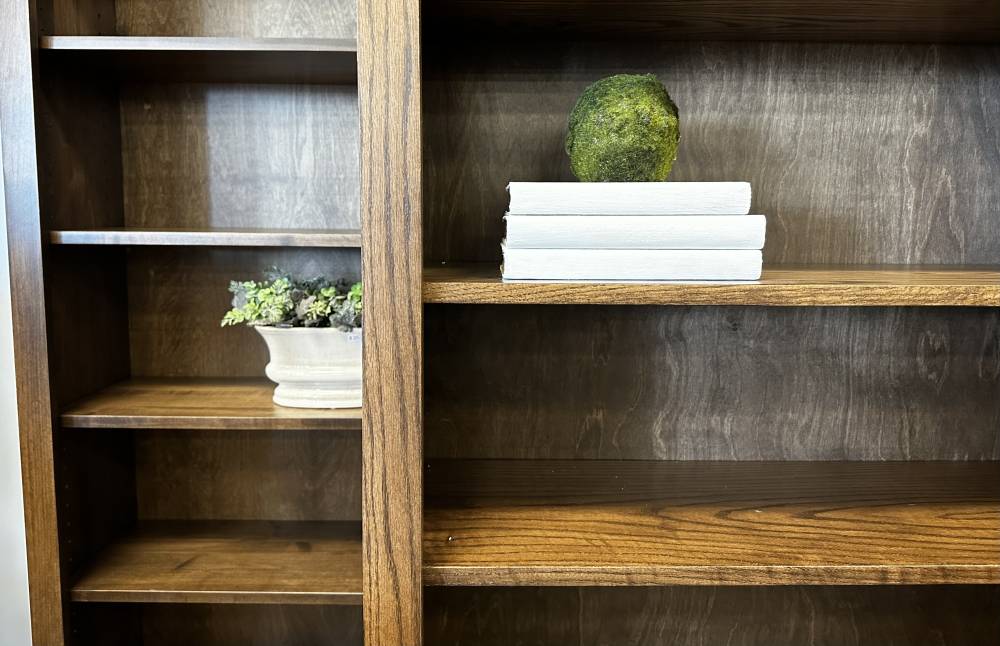 We use catalyzed varnish to protect our wood tables from heat damage, however, it's important to keep in mind that all wood pieces have their limitations. When placing warm or hot dishes on the table, make sure the temperature of the item doesn't exceed 140 degrees Fahrenheit. If the item is too hot, place it on a barrier like a trivet or a placemat, rather than directly on the table. Hot food on a paper plate is not recommend as the plate is made from paper and not enough of a barrier. It's also important to be cautious when placing items with both heat and moisture on our tables, like a pizza box. Always put something under it to prevent any potential damage.
If a heat mark does occur, it's best to leave it to the professionals for complete repair. You can find local furniture restoration companies, as well as services like Guardsman, that offer on-site repair. To make the heat mark less noticeable, you can use lemon oil to restore the luster of the table. We've only seen heat marks on our furniture in extremely rare cases, so with proper care, you can enjoy your wood table for years to come.