FREQUENTLY ASKED QUETIONS
1. How do I avoid scratches?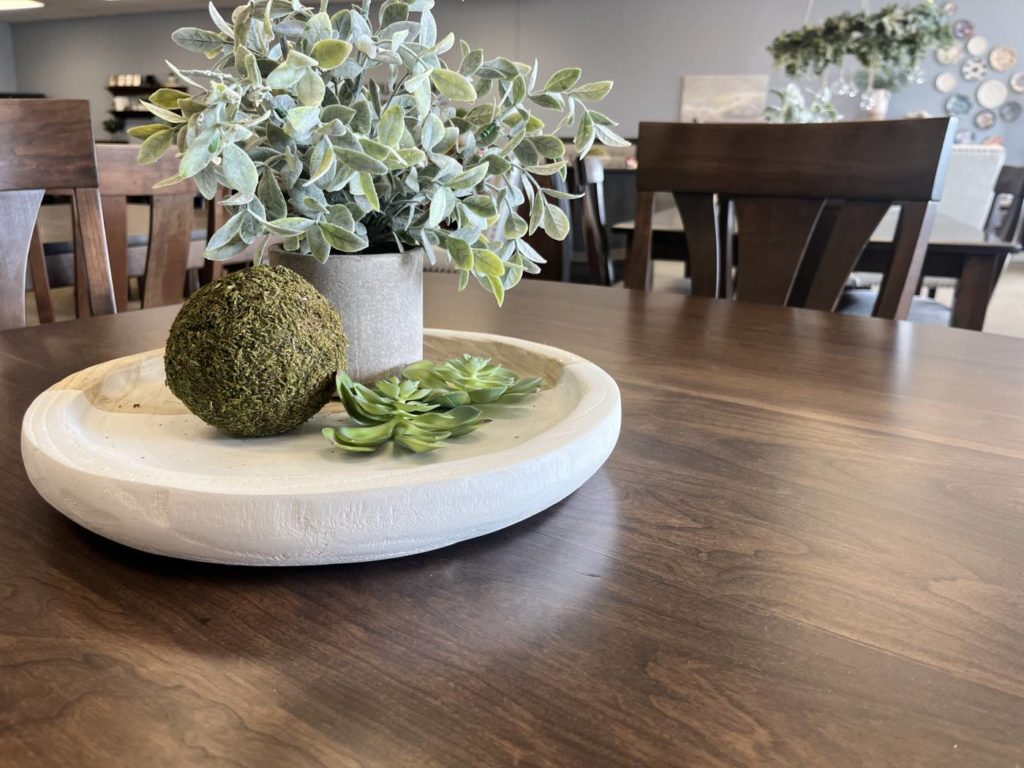 There is no such thing as scratch proof furniture whether it is Amish made or made out of other materials. When something hard hits a surface with enough force, it has a capability of scratching. The good news is that we only sell furniture made from hard wood species and they are less prone to scratches than faux wood veneer, pine, Formica, and soft wood species. We would never tell a customer that our furniture is scratch proof because over time scratches can occur when it's a piece you live with from day to day. Wood is very forgiving towards scratches and in the worst-case scenario, wood can always be sanded down and refinished to look brand new again. Our products are finished with a modified catalyzed conversion varnish. Catalyzed varnish is tough, but not indestructible. There will be scratches and dents along the way if you use your furniture but there are ways to avoid and minimize this. Do not slide items across furniture, make sure to lift and move them. Make sure you put protective pads under vases and decorative items. Keep your furniture free of dust. Dust particles, while small, can be abrasive. Remember, this is a durable varnish but even the toughest finish will scratch with abrasion. When writing directly on your table, it depends on how heavy handed the person is. Placing something underneath will help avoid scratches when writing on a piece of paper, but please avoid writing heavily without a barrier as we cannot guarantee it won't go through albeit rare.
2. When do we suggest floor protectors?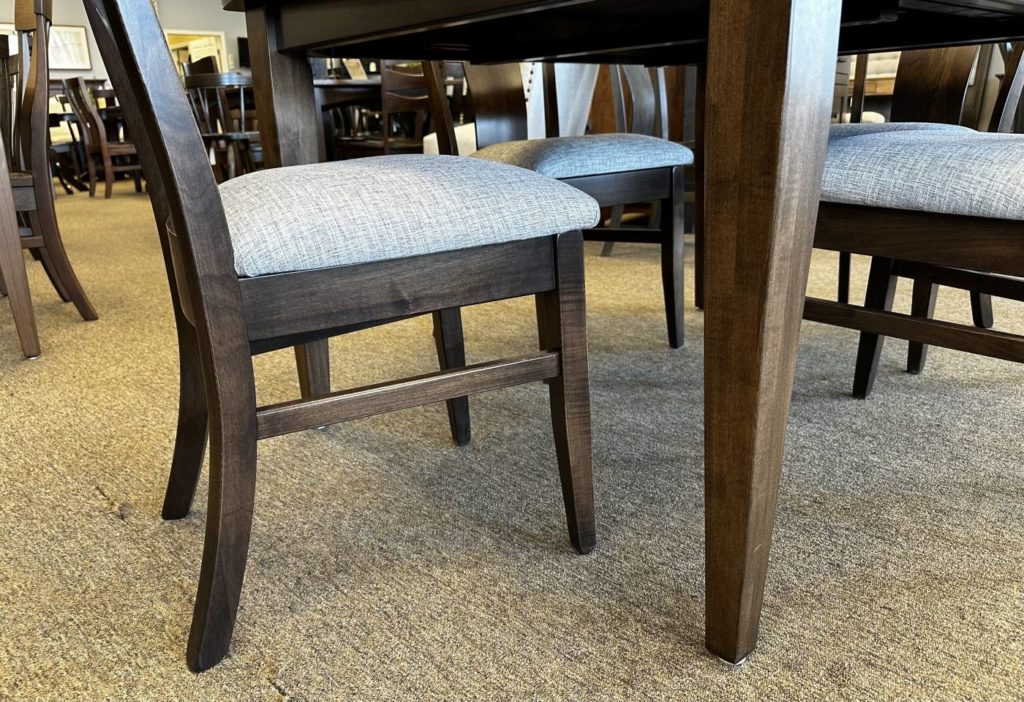 While adhesive felt is great for most of our products, chairs and stools can be a challenge since they're often moved across surfaces. That's why we recommend floor protectors for these items. Unlike peel-and-stick felt, they're much more durable and longer-lasting. Although we don't guarantee them for life, they last a long time and can be replaced easily if needed.
However, if your chair or stool is on a carpet or rug, felt floor protectors are not necessary and can even cause friction that weakens the product over time. If you're having trouble with the back legs of your chair coming off of a rug, you can always add peel-and-stick felt to the back legs only.
3. Knots in wood
We take great care to ensure that all of our furniture is crafted using 100% real wood. It's important to note that knots can naturally occur in any wood species, but some woods such as cherry, hickory, and quarter sawn white oak have a greater tendency to have knots than others like maple and oak, which usually have few to none. It's possible that you may see small knots in the wood of our furniture, but please rest assured that this is completely normal and adds to the natural beauty and character of the piece. These knots occur naturally in the trees and do not harm the quality or long-term use of the product in any way. Plus, they make your furniture stand out from mass-produced veneer pieces that lack the unique charm and character of real wood. We take pride in the quality and craftsmanship of our furniture, and we're confident that you will too.
4. Heat Marks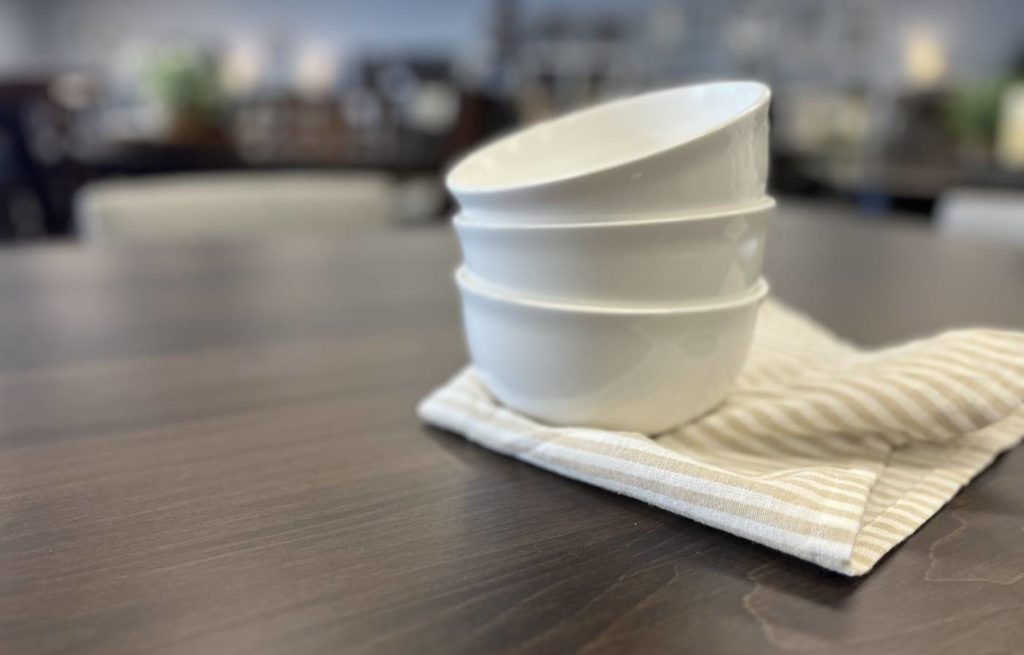 Our furniture is sealed with a catalyzed varnish, a highly-regarded finish often found in high-end furniture. This finish offers excellent heat resistance, although it's essential to remember that it is not completely heat-proof. While it's safe to place everyday items like cups or plates on the surface, we advise against placing extremely hot items on your furniture, especially during the first 3-4 weeks in your home. We strongly recommend that you avoid placing anything right out of the microwave or oven directly onto your furniture. As a general guideline, the average temperature out of a microwave or dishwasher is 211 degrees Fahrenheit, whereas catalyzed varnish has been tested to withstand temperatures up to 140 degrees Fahrenheit. By following these simple precautions, you can rest assured that your furniture will maintain its beauty and integrity for years to come.
5. Why we sometimes see noticeable board differences on pieces (especially chairs)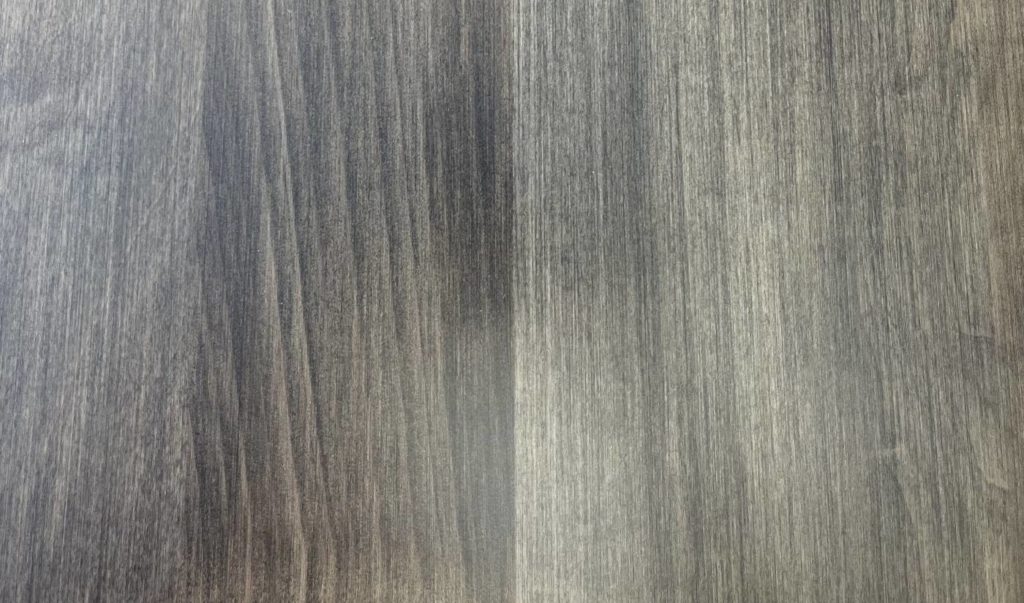 When you have furniture made from solid wood, it is made up of many boards glued together. This means you can expect differences in grain pattern, stain variation, and the size of the boards used. But don't worry, this is common, expected, and even desirable in solid wood furniture.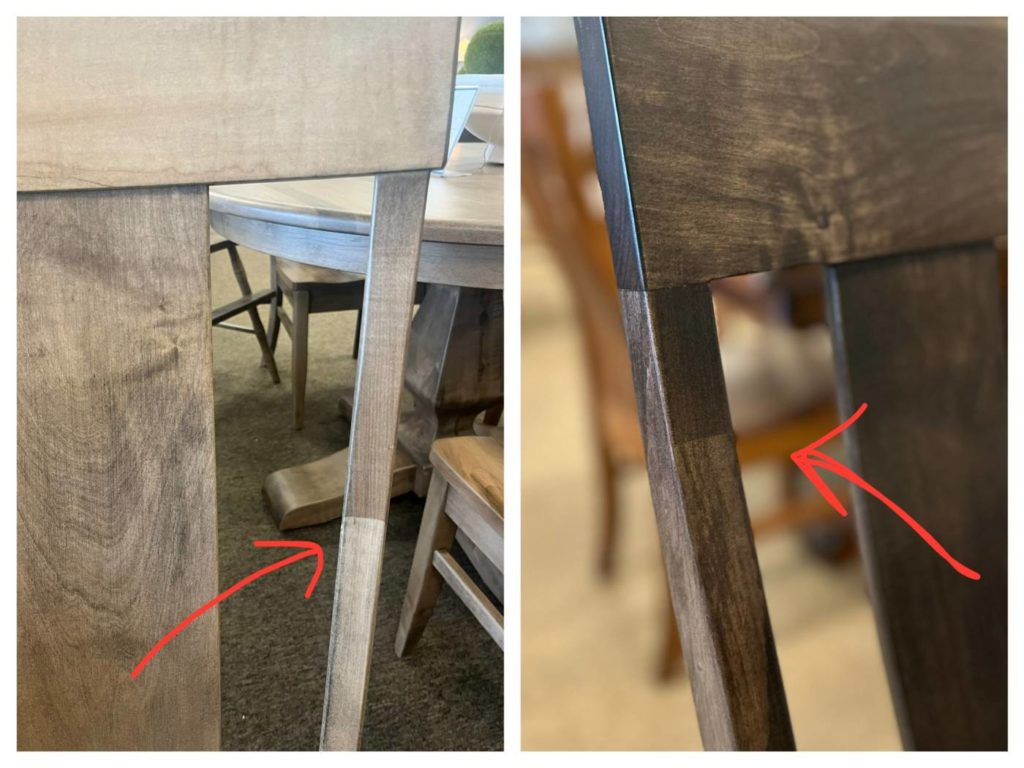 You may also notice a line on the legs posts of some chairs from time to time. This is not a flaw, but a result of the construction process called the nesting technique. When the legs are cut from a large board made up of glued-up pieces, there are angles and curves that can result in a visible line after staining. This is a natural occurrence that is extremely common on chairs and is not a flaw.
6. Why some pieces come with levelers and some do not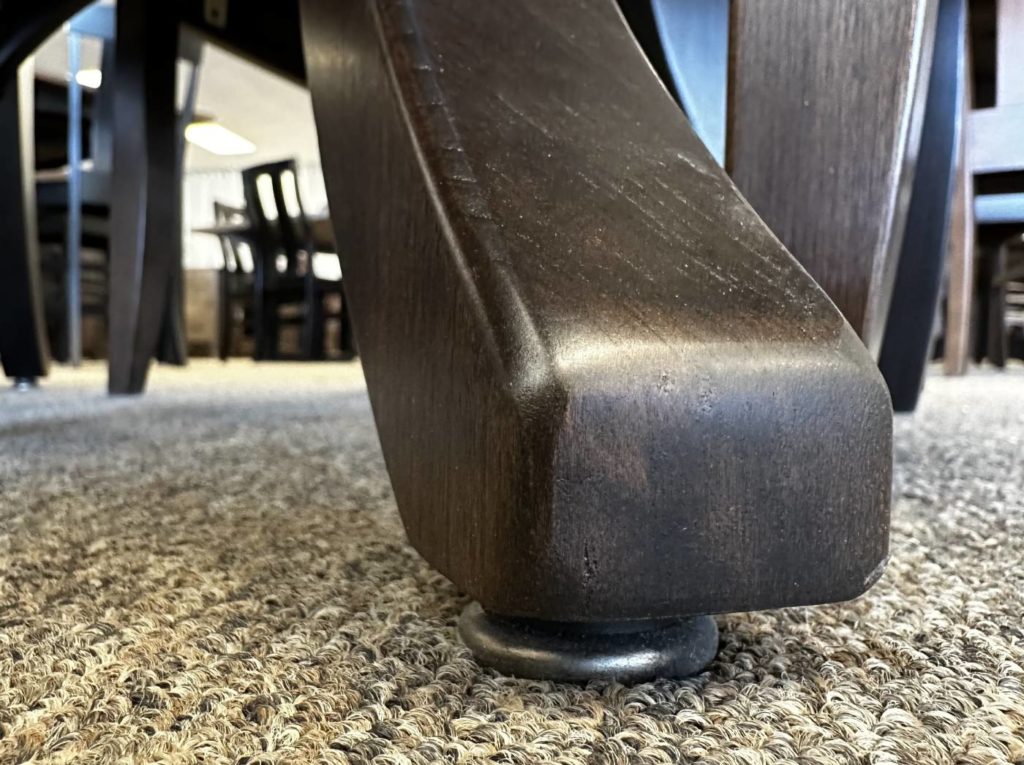 Occasionally, you may notice that a piece is not sitting completely flush on your floor. Don't worry – this is due to the fact that most floors in homes are not perfectly level and not to your furniture item being built incorrectly. To fix this, simply add felt peel and stick under the feet of the piece and double up under the side that needs the most attention. While most items do not require levelers, our builders add them when necessary, such as on dining/kitchen tables or larger cabinetry. Rest assured that our furniture is built to last and our levelers and felt protectors are just one of the many ways we ensure that our pieces are of the highest quality.
7. Pits in wood
We take pride in sourcing all of our wood locally from the Midwest, ensuring that our furniture is made with 100% real wood. As with all natural resources, real wood possesses unique characteristics that make each piece of furniture truly one-of-a-kind. It's not uncommon to find small pits in the wood, regardless of the species type, and we want to assure you that this is a completely normal and expected feature of natural wood products. Rest assured that these small pits have no adverse effects on the product or its long-term use; they are simply an inherent characteristic of the natural material. So, you can be confident that your furniture is not defective, but rather a beautiful representation of the natural beauty and uniqueness of real wood.
8. Dust spots under the finish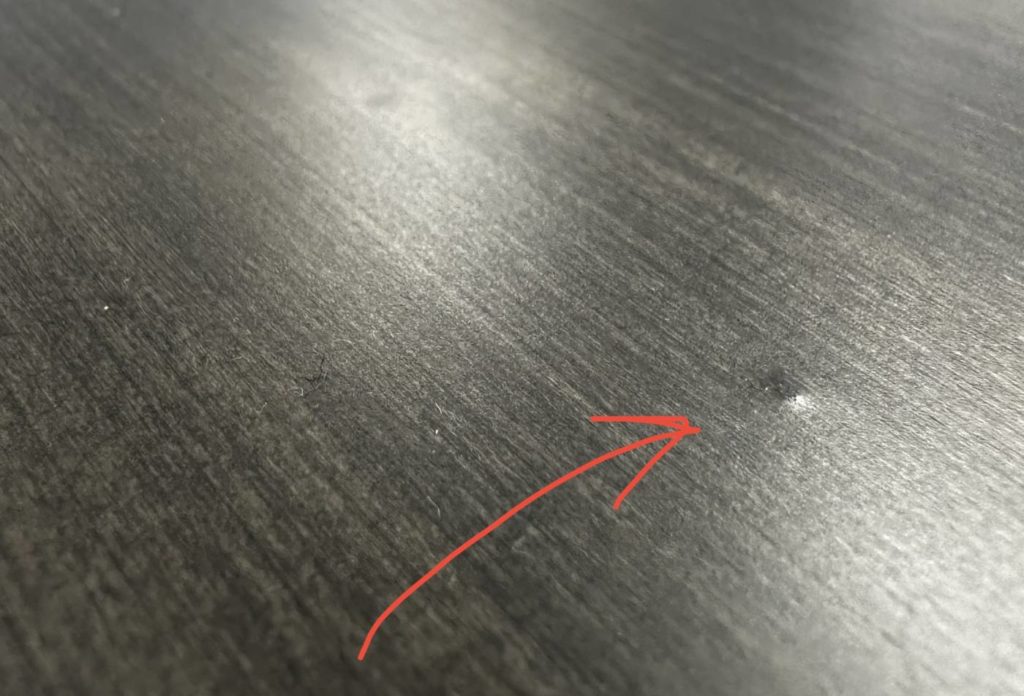 Rest assured that it is completely normal to find a speck of dust under the finish of Amish-made furniture. This is a natural occurrence that happens because the furniture is crafted by skilled human hands in small, artisan shops rather than in vacuum-sealed factories that produce mass-produced furniture. Please note that this minor occurrence of dust has no impact on the quality or long-term use of the furniture, and should not cause any concern whatsoever.
9. What is end grain and where is it normally found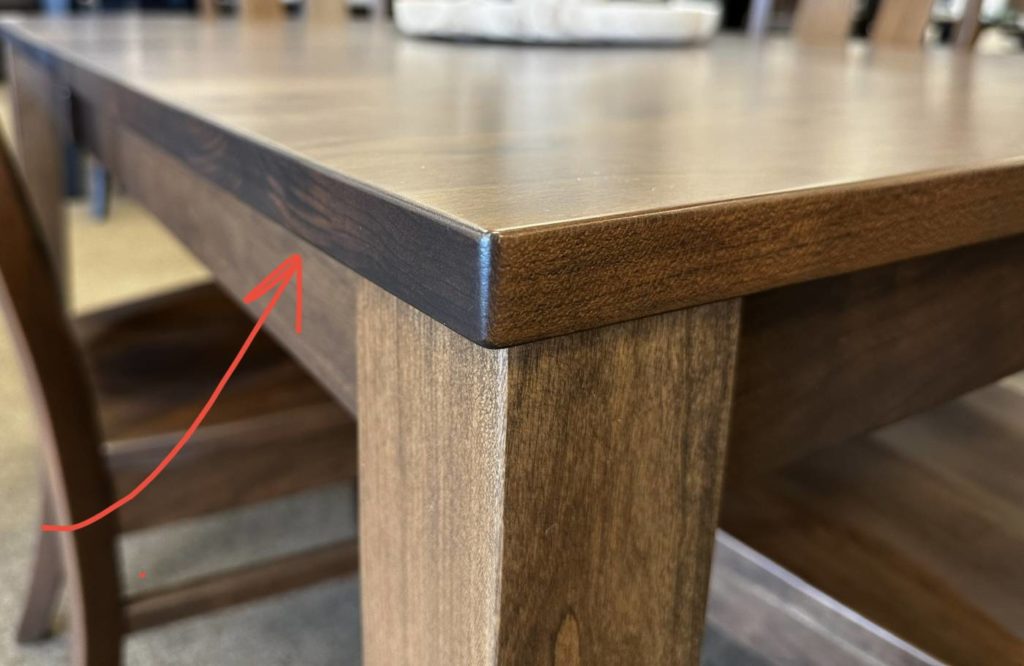 When each wood board is cut, it creates what is called "end grain", which is the literally end of each board. This area can have a different grain direction, texture, and absorption rate for stain compared to the rest of the wood. This is completely normal and occurs on every wood board, as well as on all furniture. You may notice this more on the edges and tops of our furniture, especially on items such as tables and bedroom pieces. This is not a flaw and is an inevitable feature of making furniture from real wood products.
10. Oak Ply backing on cabinetry, bookcases, desks, etc.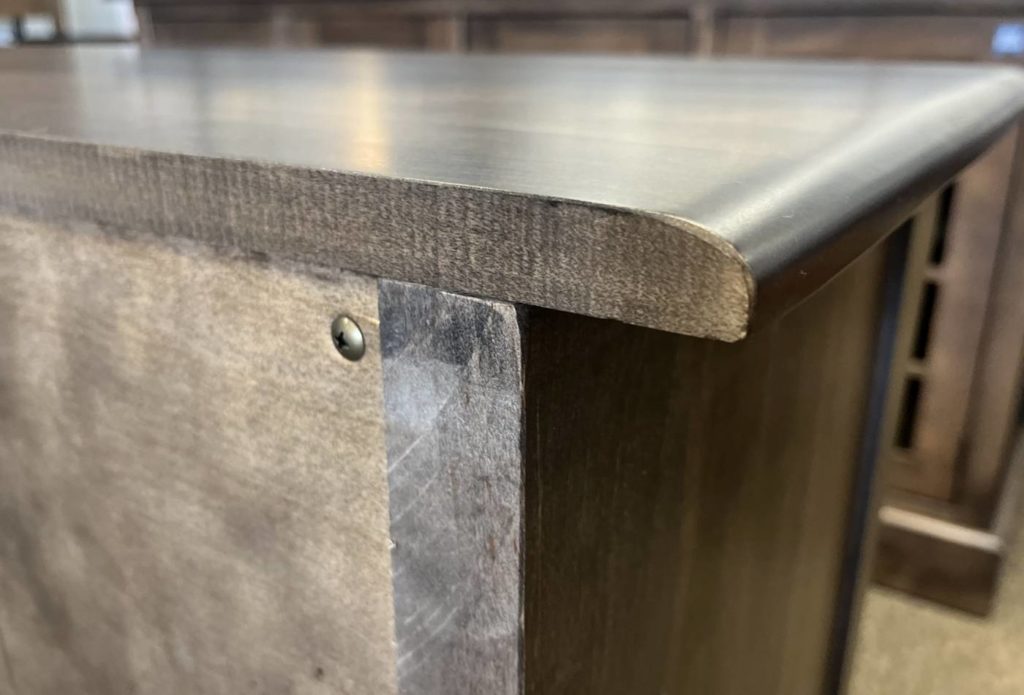 Occasionally, you may find some oak plywood pieces in your solid wood furniture, such as the backs of bookshelves and buffets, and other storage pieces. Please be assured that this is not to cut corners or skimp on quality, but to improve the strength and durability of those specific parts. In cabinetry like TV stands, file cabinets, buffets, and bookcases, using a plywood back provides breathability, allowing the furniture to adjust to changes in humidity without any issues over time.
11. Uneven boards on distressed and/or planked furniture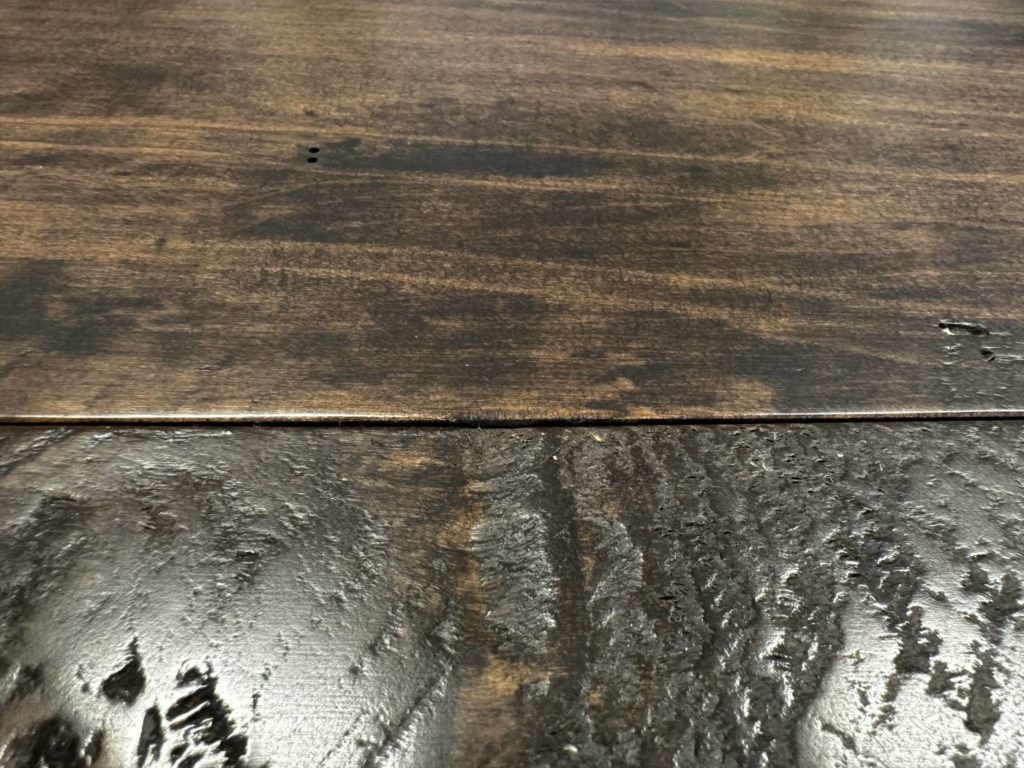 We love the look of distressed furniture as it gives it a more lived-in, casual feel, and helps hide the daily wear on your furniture. Our skilled Amish builders take great care in utilizing a range of techniques, from various tools to selecting boards that are already distressed, to create the unique, sought-after appearance. It's important to note that due to the distressing process, some boards may feel slightly uneven or hand-planed, but please rest assured that this is completely normal and expected for our distressed tables. This characteristic is part of the furniture's inherent beauty and does not affect its long-term use or durability in any way.